Gratitude, Reverence & Wonder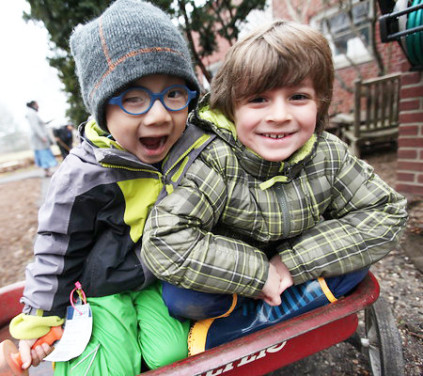 In our classes children are encouraged to share, to work together, to care for each other and to respect the needs of others. The behavior of children is molded by what surrounds them. Kindness is practiced by teachers and encouraged in the children and they learn to trust the adults and other children. Many items are made as gifts for family members. Traditional fairy tales and nature stories address a fine moral sense for knowing right from wrong.
Our playgrounds offer a wooded oasis complete with sand boxes, swings and slides, flower beds, a tree house, a small stream, a grassy tunnel and a boat grounded on dry land. The development of the physical coordination through movement, balance etc. is fundamental at this age. Climbing, jumping rope, or doing hard physical digging all provides an excellent opportunity for children to develop these capacities, and to find their own boundaries.
"Whether they are flying like the wind on a scooter or pulling weeds from the garden, there are endless scenarios for creative play."

—-Early Childhood Teacher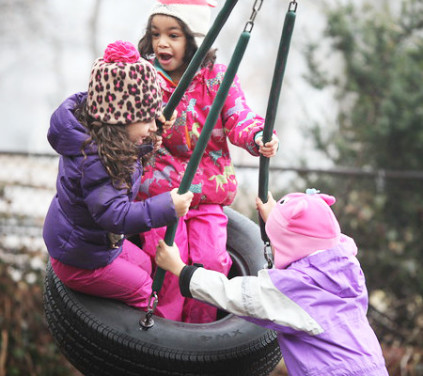 Through their self-directed play and engagement with the natural world, a foundation is provided for scientific observation and tacit knowledge that underlines future scientific pursuits. All of these activities come from their own individual initiative and are consistent with research that supports that children at this stage of development learn best through play, exploration and imitation.
Students take weekly walks on the Waldorf School of Garden City's Nature Trail, where they are able to observe the changes of the seasons and witness the many creatures that live there.
"This past Tuesday the children and I came upon a tall apple tree and they were delighted to gather their yield of fallen apples. On Wednesday we took our harvest, and scrubbed it clean, in preparation for the making of crab apple jelly. Over the course of several days, the class will cook the apples, pour the jelly into mason jars and give them as gifts to their families. A small amount will be kept in the classroom for our weekly snack at school."

—Early Childhood Teacher
Through regular exposure to the natural world, reverence for life in all forms is gently nurtured. From sledding down a hill, climbing through a tunnel or balancing on a fallen tree limb, opportunities abound for healthy fun. Experiences like collecting apples from our trees and making crab apple jelly connect students to the earth in a personal and meaningful way.
Watch: A Connection to Nature